REFLEX+
---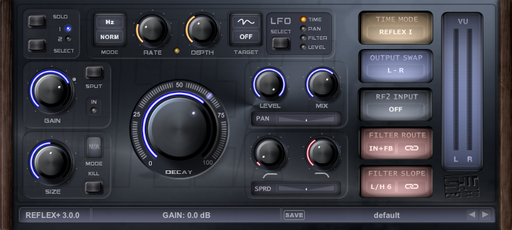 REFLEX+ V2 is the second generation of the delay algorithm based echo/reverb unit REFLEX+ ambience effect plugin.

REFLEX+ is capable of generating huge spaces, short rooms, or chorus like modulations. It achieves huge and spacy wideness through a cascade of regenerating delays and thus is an ideal tool for big ambient reverbs. Beside common and expanded mono/stereo or cross delays REFLEX+ provides everlasting reverbs as well as special modulation effects which will enrich all kind of sources to an inimitable ambient sound cloud.
REFLEX+ is your perfect companion for unique ambience effects!
Features:
• Short reflections up to endless reverberation
• Delay Time modulation
• (New in V2) Pan modulation
• 4 LFO modulation shapes
• 6/18dB/oct Hi & Lo pass filter
• 7 Delay/Reverb algorithms (New in V2) X-Delay I+II
• (New in V2) 2 independent effect slots (REFLEX lines)
• (New in V2) Preset manager (ships with more than 70 factory presets)
REFLEX+ works in demo mode until registered with a valid serial number.
Demo limitations: Audio input is muted for some seconds every minute. The parameter display shows "Demo Mode" instead of the selected parameter.
Minimum System Requirements:
Processor: Current PC or IntelMac, CPU with SSE2
Operating System: MacOS X 10.5, Windows XP or newer
Memory: 1GB RAM, more recommended. 20MB free disc space
Host application: VST2 or AU (Macintosh) compatible host software.
REFLEX+ supports 32bit and 64bit in all available formats