REFLEX free
---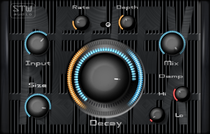 Freeware
 VST Ambience generator
REFLEX free is capable of generating huge spaces, short rooms,  or chorus like modulations through a cascade of regenerating delays. It's sound is a mixture of straight stereo delays followed by a dense cloud of reflections. It achieves a huge and spacey wideness with a decent amount of the two modulation sources.
Features:
Short reflections up to endless reverberation
Delay/Reverb Modulation
Two modulation shapes
Lean GUI
Low on CPU
Changes in V1.1:
Additional Locut filter in the feedback line
New GUI
Fixed samplerate bug - Works with all sample rates correctly now
Heavily reduced memory occupation
 

Minimum System Requirements:

 

Processor: Pentium III/AMD with SSE support
Speed: 1200 MHz
Memory: 256 MB RAM
Operating system: Windows 2000 or XP or newer

Host application: VST 32 bit compatible host software

(Cubase, Nuendo, FL studio,Reaper etc.) 







If you like REFLEXfree and think it's worth  donating a small fee to the author don't hesitate to use the button on the right. Thank you!

REFLEXfree showcase:

 

 
 

PAD DEMO

           

MOTION DEMO

LEAD DEMO

 

LOOP DEMO